"Ferguson". The one word everyone else is talking about here in the US, yet I've found that few whites and blacks are discussing the issue together.

Personally, as I see others outside of my race talking about the incidents in Ferguson, Missouri, none of them, not even those I know, seek to bring me into their conversations on the subject. I hear words like "Ferguson," "shoot," "thug," "Wilson" and "Brown," so I know what's being discussed. I draw near and...

Crickets.
Powered by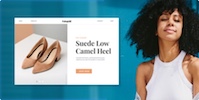 Create your own unique website with customizable templates.