When I decided to address the subject of the media, I suddenly understood just what it was like to be a shark at sea with the smell of fresh blood in the water. In the eyes of this humble and loyal American, the media in general and the Fourth Estate in particular have done great harm to the nation through slanted presentations and socio-politically skewed reporting that have time and again altered the national fabric. Focusing exclusively on the media's impact from the popularization of television in the late 1940s to today, I unequivocally state my firm belief that the media's coverage and comments regarding certain major events coupled with its polymorphic allegations of societal norms consistently transgress into the forbidden, dangerous realm of shaping both national opinion and national policy.



---

I freely admit that like a kid in a candy store, I was initially unable to decide which particular sin perpetrated by the media this article should cover. After all, there are so many ways in which the media has fashioned the raw clay that is America to its liking—too many to cover in just a few pages. Through media manipulations came images and perceptions of "Twiggy" and the proffered image of women as waifs; the Vietnam War was presented as a hopeless quagmire and domestic upheaval ensued; the noble efforts of peaceful marchers during the Civil Rights Movement was often dismissed as the negative actions of Negro agitators by newsmen; the John Wayne image of manliness was likened to brutishness and ultimately toppled under the media-laden weight of the Happy Hooker, bra burnings, Gloria Steinem, and the Women's Liberation Movement; the racially charged coverage of the OJ Simpson case made the black/white divide raw and new again. And there's so much more. Again, there's far too much to cover in detail in just one article, so I start in the era of black-and-white television, sock-hops, and the 48 states of America to revisit McCarthy, Murrow, and those factors that helped create the Communism-hating America of the 1950s.

In 1950, an America already in the throes of the "Red Scare" was thrown further into disarray by the anti-Communist rants of Republican Senator Joseph R. McCarthy of Wisconsin. McCarthy made unsubstantiated claims that there were large numbers of Communists, Soviet spies and sympathizers inside the State Department in a now-infamous (and mostly unrecorded) speech to the Republican Women's Club of Wheeling, West Virginia on February 9, 1950. The speech ignited a firestorm of controversy which, thanks to lavish media coverage, launched the third-year Senator to national prominence and began the age of "McCarthyism". McCarthy would later add the administration of President Truman, the Voice of America (the official international radio and television broadcasting service of the United States federal government), and the United States Army as institutions rife with Communist spies and loyalists. The media harped on every charge.

Supporting McCarthy was one of the strongest political bases in the United States: the fabled Kennedy family of Massachusetts. He became a close friend of Kennedy patriarch and fellow anti-Communist Joseph P. Kennedy, Sr., and was a frequent guest at the spacious Kennedy compound. He eventually became godfather to Robert F. Kennedy's first child, Kathleen Kennedy. Family patriarch Joseph Kennedy, Sr., wielded significant political clout and he set himself and his power to the task of increasing McCarthy's political war chest and his popularity.

The number of "Reds" claimed known to Senator McCarthy ranged from a few dozen to hundreds of individuals, though few were actually revealed by name. Those he did specify had prior collisions with investigative authorities and were largely cleared of previous accusations when McCarthy leveled charges against them anew. After four years of failing to substantiate a single point, and despite having Kennedy approval, Kennedy clout, and Kennedy dollars behind him, the full Senate voted to censure Senator McCarthy in 1954 by an overwhelming margin.

Given that McCarthy was a political opportunist who capitalized on the nation's growing fear of Communism, it must be noted that the House Committee on Un-American Activities (HUAC) had existed since 1938 as an investigative committee of the United States House of Representatives. Originally called the Special Committee on Un-American Activities Authorized to Investigate Nazi Propaganda and Certain Other Propaganda Activities, its mandate was to get "information on how foreign subversive propaganda entered the U.S. and the organizations that were spreading it" and was supposed to be aimed mostly at German-American involvement in Nazi and Ku Klux Klan activity. As to investigations into the activities of the then-popular "Klan", the Committee did little, and when HUAC's chief counsel Ernest Adamson announced that there was insufficient data on which to base a probe, committee member John E. Rankin added: "After all, the KKK is an old American institution". Therefore, instead of the murderous Klan, HUAC concentrated on investigating the possibility that the American Communist Party had infiltrated the Works Progress Administration, including the Federal Theatre Project.

HUAC became a standing committee of nine members in 1946. It was instructed to investigate suspected threats of subversion or propaganda that attack "the form of government guaranteed by our Constitution." Under this mandate, the committee focused its investigations on those persons believed to be Communists in positions able to influence American society. A significant step for HUAC was its investigation of the charges of espionage brought against U.S. State Department official Alger Hiss in 1948. This investigation ultimately resulted in Hiss' trial and conviction for perjury in 1950, and convinced many of the usefulness of congressional committees for uncovering Communist subversion.

In 1947, the committee held nine days of hearings regarding Communist infiltration of the Hollywood motion picture industry. After conviction on contempt of Congress charges for refusal to answer some questions posed by committee members, ten of Hollywood's "glitterati" were blacklisted by the industry. Later, about 300 more suspected Communists would join the ranks of Hollywood's unemployed. It was the actions of the HUAC, not McCarthy's, that gave rise to the popular image of the "Red Scare".

Suspected Soviet infiltration again became confirmed fact in 1950 when Ethel and Julius Rosenberg were arrested for selling the U.S. permanently down the river by handing our precious nuclear secrets over to the Soviets. They were convicted in 1951. Due to them and other insurgents, the course of post WWII history was inexorably altered, and America was thenceforth denied the preeminent status of being the sole nuclear power in the world, with all that such a unique military station would imply. For the permanent damage done to America, for being party to forever crippling this nation's strategic advantage, the Rosenbergs were each strapped into an electric chair and electrocuted in 1953.

With the above as the backdrop to the nation's state of mind in the early 1950s, the emergence and popularity of fear-mongering Senator McCarthy is understandable. What is not understandable is how he, not the HUAC, was assailed by the media at the time. Television news pioneer Edward R. Murrow led the assault against McCarthy via his See it Now program when on March 9, 1954, the CBS network aired an installment titled "A Report on Senator Joseph R. McCarthy." It was televised slaughter.

McCarthy seemed intelligent, but he was far from eloquent. Both on-camera and off he misspoke frequently and confused the name of persons he referenced. On See it Now, he inaugurated the era of televised political meltdowns, with Richard Nixon's appearance and "cloth coat" comments in debate against JFK being a later example. See it Now was a disaster for McCarthy as he fell victim to both the rapid-fire hostility of the eloquent, well-prepared Murrow and the Senator's own inability to clearly, coolly, and concisely relay his message. By the end of the half-hour program, with no concrete facts or figures to support him, McCarthy's political career was in free-fall.

Media vultures swooped in, sensing Murrow's kill. During an interview, President Eisenhower coined the term "McCartywasm" in reference to the Senator's decreased power and the media ran with it. Yet by largely ignoring the HUAC and focusing instead on the pugnacious Senator McCarthy, the media assault indirectly weakened anti-Communist efforts in America. "McCarthyism" died quickly, but the HUAC retained at least enough power to influence Hollywood to produce pro-American, anti-Communist films, though the work was often of poor quality.

Amazingly, though the media humiliated the vulnerable Senator McCarthy, he was generally correct about the existence of at least one high-ranking Government official who was actually a Communist spy. Later scholarly research of Soviet archives revealed that HUAC co-Chairmain Samuel Dickstein was named in Soviet Secret Police (NKVD) documents as a Soviet agent, and that he received a monthly stipend from the NKVD in return for giving them reports on Congressional activities.

Murrow himself would also prove to be quite the hypocrite when, in 1961, he accepted an appointment by President John F. Kennedy to head the United States Information Agency (USIA). He held the high-profile post until ill health forced him to resign three years later. During those three years, Murrow may have forgotten or completely chosen to ignore the close ties that existed between the Kennedy family and McCarthy, who died in 1957.

JFK differed from many Leftists, Democrats, and Murrow himself by never directly attacking McCarthy. Yet despite Kennedy's failure to distance himself from McCarthy and all that he embodied, Murrow willingly gave of himself to the Kennedy administration. However, based on his previous actions, I believe it would've been fair and proper for Murrow to film one last See it Now exposé before he died in 1965 and focus his considerable lexicon and investigative skills not for Kennedy but upon a uniquely paradoxical element present within America at the time: himself.

-Keith V.
Powered by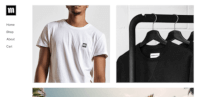 Create your own unique website with customizable templates.